Summary of our Romantic Tour to Tallinn 21st - 23rd September 2018.
Participants' reviews.
Dear members & friends!

Our Romantic September Tour is now unfortunately over. We are looking forward to seeing you again at our future joint events!
We all enjoyed our time together spending the whole week-end in such spectacular company. There were 17 people in our group altogether – 10 ladies and 7 men.
All the girls and ladies came from St. Petersburg (Russia) while the gents came from the UK, - (London, Harrogate, Northampton), Belgium and Luxembourg.
We must say that this time we had a young and very cheerful group, most of the girls were aged between 28-38 years old and were very charming, entertaining, amusing and fun.
We all had enough time to spend in the hotel' modern spa complex with swimming and enjoying the different saunas with much laughter and chat.
Our Friday evenings dinner in the hotel' fine Regatta restaurant was very pleasurable - all the girls and gents were smartly dressed, in great spirits and a good appetite to admire the dishes of the local Estonian cuisine.
Our Saturday morning run could have been more popular if everyone hadn't been out dancing till late the previous night. But those that took part still enjoyed the morning time outdoors jogging and a nice gulp of fresh Baltic sea-side air.
Later in the morning...our English - Russian master class has developed into a real competition event with lots of intense teamwork, artistic performances and memory games with prizes for winners and of course lots of laughs and fun. Everyone enjoyed it!
Later that day we had our cultural programme. A very informative excursion to the Niguliste museum followed by an organ concert, which was a nice relaxing and enjoyable break. This was followed by dining in a traditional Estonian pub and clubbing time after...
There was definitely love and charm in the air!!
How courteous and generous all of the guys were! How they took care of the girls, entertained and treated them.. it was a real pleasure to watch!
And there was definitely a reward for such great attitude - we all appreciated the way the girls made their own effort - they changed several times a day, all were so pretty, lovely and charming!
We do think that some of our group WON'T need dating services any longer, as this was a perfect chance for them to build up a relationship. GOOD LUCK and fingers crossed!

We must thank everyone for the lovely time we spent together – all and everyone was real fun to be around, we learned a lot from each other and enjoyed the time and the company. That was the aim of our trip and we hope we achieved what we wished and we will all keep warm memories of the time together!

Yours,

Mark and Natasha.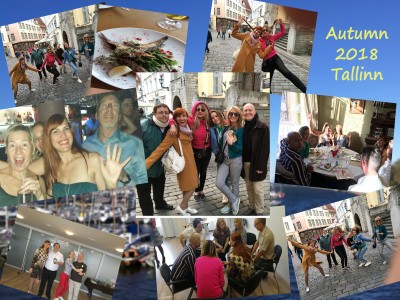 ---
---
Participants' Reviews

M. from London.
" Dear Natasha and Mark,
How are you? A quick head up, first of all a massive thanks both of you for organising this tour. I enjoyed every minute of staying in Tallinn. I made new friends.
No doubt, this stay in Tallinn was a great experience in all respects"
Margarita from St. Petersburg.
"Всем привет от Маргариты. До сих пор настроение отличное. Поездка в Таллин удалась! Было очень весело, все сложилось с первых минут нашего знакомства. Огромное спасибо Наташеньке и Марку. Организация мероприятия на ПЯТЬ БАЛЛОВ. Буду очень рада всех мальчиков и девочек увидеть вновь"
"Hello from Margarita. So far, the mood is excellent. A trip to Tallinn was a success! It was very fun, it all started so good from the first minutes of our acquaintance. Thank you so much Natasha and Mark. Organization of the event on EXCELLENT. I will be very glad to see guys and girls again."

J. from Luxembourg.
" Dear Natasha
Here are my impression about the tour in Tallinn This is the second time I attended. The first one was good, but this one was better. You followed our suggestions and I really appreciated.
On top of that I meet someone that I really like, who know what the future will show :-) Regards

Gary from Northampton.

" Dear Natasha and Mark,
Thanks for the email re the trip to Tallinn.
I had a great time and totally enjoyed it.
I was involved in a wide range of activities from swimming and saunas to socialising in restaurants and dancing in the city nightclub (oh, and not forgetting the Russian language lessons).
Best regards,"
Subscribe to our Tour Calendar 2019!