VIP service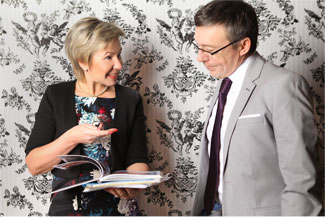 A very warm welcome from us Mark & Natasha,
the founders of this International Introduction Agency.
We personally know how difficult it can be to meet your life partner in your own country.
So why not expand your search! The world is a big place and there are so many like-minded people overseas who are attractive, intelligent and also looking for their 'best friend, lover and soul mate.
We have specially tailored our VIP Introduction Service to match those people who are not just willing to meet their partner in their home country and abroad, but wise enough not to take on the risky and time consuming online dating and travel option.
We take time guiding you through the whole process of search, travel, meeting and dating clients and above all take time to listen.
We don't select your compatible ladies by height, weight, age, hobbies and other simple components.
We carry out a professional search focusing on psychological portraits, goals in life, values and of course chemistry.
Our VIP service is a strictly individual, confidential search for your partner within the range of territory in Eastern Europe, the UK and other parts of the EU!
We offer this service to serious, professional, busy men, who understand that effective matchmaking and introductions should be carried out by professional matchmakers. Our clients are ready to listen to our recommendations based on more than 20 years experience of successful introductions. And we are always pro-active in finding the lady of your dreams!.
WHY ONE YEAR?
Based on our experience, one year as an optimal and realistic period of time within which people from different countries can start communication, have time to see each other personally and get to know one another and to start and develop a serious relationship which may lead to marriage in the future.
We continue to work with you in finding your perfect partner and give all our assistance in this process during this time.
Contact us using any means listed at the bottom of this page, or send us a message using the
contact form
and we will ring you back. We will discuss your requirements and share the benefits of our VIP service.
Once you have decided to join us and all our 'Happy Couples,' we will take you through the initial process and in particular the following steps.
Your telephone or personal face-to-face* interview with us.

You may come to Bath (UK) to have your personal interview or in St. Petersburg (Russia) or we can arrange to come to meet you in your hometown or other convenient location. (*travel expenses may be payable.) We discuss in detail your aims and expectations and we take all of your personal details. We also ask for proof of ID and also proof of address. All personal details are kept strictly confidential.

Preparation of your individual professional profile.

We advise, prepare and publish your written presentation, (not on the site - unless you specifically wish) and we advise and liaise with you on photographs. Your published presentation is sent to you for approval before it is circulated.

Search for your personal selection of compatible ladies.

As well as you being able to browse and select ladies from our on-line Gallery, we will also search both from those members profiles published on our site and from those in our non-published individual catalogues - (available ONLY for VIP members). When we have discussed a final shortlist of possible matches for you, only then is your presentation forwarded to them. All positive responses are then returned to you.

Organisation of communication with the ladies you like and further personal meetings.

You are encouraged to become acquainted with a lady or ladies before you actually meet. We will organise any communication by e-mail, video call or phone depending upon the situation. Please note however that we DO NOT disclose any personal contact information until after you have actually met or unless there is mutual consent from the lady concerned.

Two Personal Meeting packages are included.

The service fee we normally charge for two 'Personal Meetings' is included in your membership. We can also assist in organising an invitation of our ladies to your country, (dependant on the individual situation.)

A unique "on-hold" facility.

You may suspend your membership for up to a period of three months during your 12-month membership if for instance, you have met someone and need some time to get to know them, or for any other personal reason.

Unlimited introductions.

You are not limited to the number of introductions you may have during your membership.

Full advice and assistance during your twelve-month membership.

Our matchmaking team works with you INDIVIDUALLY throughout your 12-month membership.This includes the services already mentioned plus any be-spoke services throughout this period. The package is entirely individual and completely up to you.
Our VIP membership service starts from just £1880.00.
Each of our VIP client's wishes and expectations differs and so we will advise you on the final total cost of the VIP service after discussing your individual circumstances with you. This might depend upon where you are currently living, what future travel arrangements you would like to make - (maybe you have decided in advance to visit 2 destinations for instance), or what your aspirations are.
All costs will be explained in an agreement that will be sent to you before you commit to anything.
Our VIP service is designed to last for 1 year and we will ensure that we do all we can in finding the perfect partner for you, and we will organise everything to your satisfaction.
Don't forget that the fees we normally charge for two 'Personal Meeting' packages IS INCLUDED in your 12-month membership along with all the other benefits outlined in the above sections.
Our VIP scheme allows for a 'success bonus' to be paid to us at the point at which you officially get married. Our bonus is the same fee as your first years VIP membership. This shows how confident we are in finding the perfect partner for you using this process.
Please contact us directly if you would like to discuss our VIP service in more detail.
Contact us
For Mark in the UK
+44 (0) 33 0001 0456 (local UK landline rates apply)
For Natasha in Russia
+7 921 785 4269 (Viber, WhatsApp)
One of our happy COUPLES matched...
A. and O., Germany, June 2014
Dear Natasha,
I'm writing to inform you that we got married. Thank you so much for your care and concern, your help and support. I would advise all the girls not to be afraid to look for a new experience.
It's great to communicate to people. Maybe not everything will go smoothly from the very beginning, maybe you meet the right man from the second, third, fourth attempt. Don't worry!